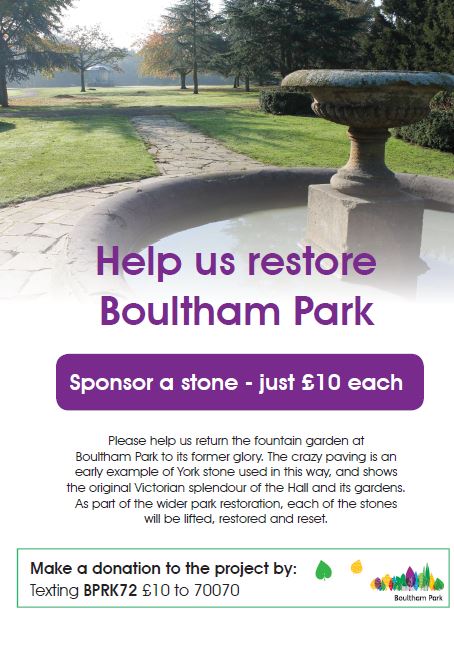 An opportunity to help restore a
key feature of the park…
Sponsor a Stone – from just £10 each.
Please help us to return the fountain garden at Boultham Park to its former glory. The crazy paving is an early example of York stone used in this way, and shows the original Victorian splendour of the Hall and its gardens. As part of the wider park restoration, each of the stones will be lifted, restored and reset.
You can donate online via JustGiving or by text (please see above for the web link and text details). Alternatively, you can send a cheque, made payable to Linkage Community Trust (address below). Please provide your contact details, and any additional details such as the individual you are celebrating / commemorating, so that we can fully acknowledge your kind donation.
Fundraising, Linkage, Toynton Hall
Toynton All Saints, Nr Spilsby, PE23 5AE
We would like to thank the following individuals for their donations to the
Sponsor A Stone campaign.
---
Amanda Bailey
in memory of Eric and Viola Hunt
Jacky Clak
in memory of John William and Louie Willson
Mary Elizabeth Hall
in memory of Mary Doreen and Geoffrey Hall
Christine McIntyre
in memory of Grandma Semper
Helen Rose
in memory of John Robert Rose
Lesley Rose
in memory of John Robert Rose
Katy Taylor
in memory of James Peter Baggott
Wendy and Bob Walker, and Sherbert